Video conferences and online events
Digitalisation is the central topic of our time. And rightly so. After all, both private and professional life is becoming increasingly global. Meeting online in large groups and discussing topics together is therefore one of the most important concerns of our digital world. However, it also becomes clear how important reliable technology is. Video chat and live streams should work without problems, which is essential especially for large digital events.
These offer many advantages and it is now hard to imagine everyday work without them. With a web conference, costs are saved, participants can take part from anywhere and they are more sustainable than many other event formats.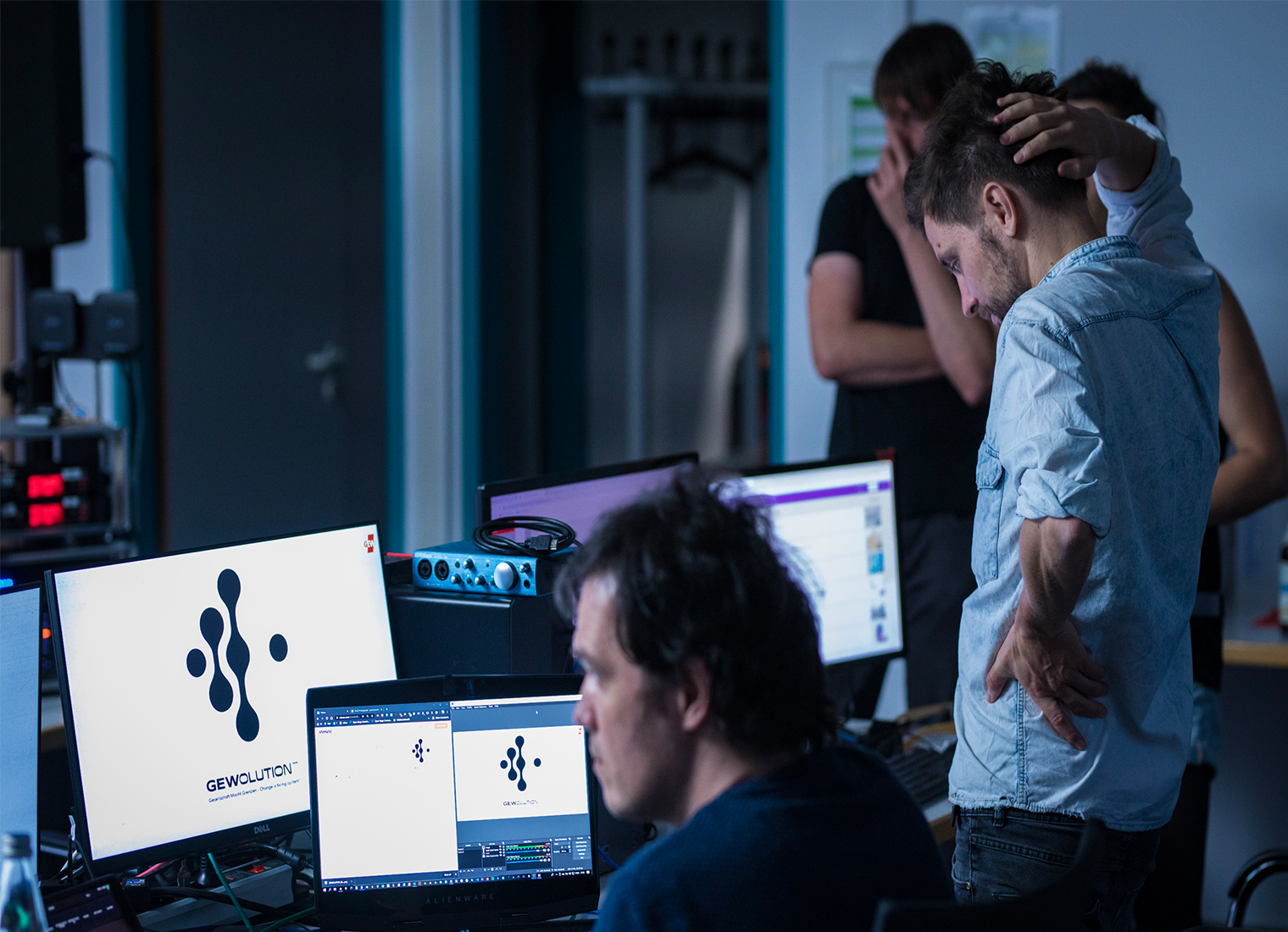 Videocall and chat
Our conference tool offers a chat platform with video call function. Participants can therefore take part in the event via text messages as well as via video transmission. We use established software for this purpose, which we adapt to your individual circumstances. We set up the design as well as the functionalities according to your visual identity. In doing so, we always keep the user in mind: Intuitive operation is a given even with special solutions.
Of course, we offer training for you, the participants and speakers. Here we explain everything about the platform. And our technical support is permanently available to all users during the event.
Features
If you are physically at a conference, you will receive a schedule booklet including a map. Online you need this too. Therefore, after logging in, the entire conference is visible at a glance. Each discussion group reflects a thematic space that I can enter and leave.
In order to have individual conversations, all participants of the conference are also visible. They can easily be contacted in individual chats.
To give everyone the opportunity to introduce themselves, the profiles can be personalised. In this way, interesting conversation partners can be found quickly.
On request, we also offer so-called "speed dating", where participants are spontaneously connected in pairs or small groups automatically in short video calls.
Users can exchange files with each other in both group and individual chats (file sharing).
Additional features are offered to providers of an online conference. For example, surveys can be started or statistics on the number of participants etc. can be evaluated.
Live-Stream
Livestreams are an important component of online events. Here, speakers give lectures in real time for the participants. In order to transmit the content without disruptions and to ensure a professional image, a technically flawless streaming solution is required.
Features
If you wish, we can set up a studio on your premises from which you can provide content for your users via video stream.
If you do not have any premises available yourself, we will support you in finding the right place and stage the selected location.
We set up the entire technical infrastructure for the stream: From IT and the camera team to sound and lighting, we have the entire repertoire.
As far as design is concerned, we offer the full range of creative services. This way, you don't have to choose a third-party provider for graphic, motion and sound design.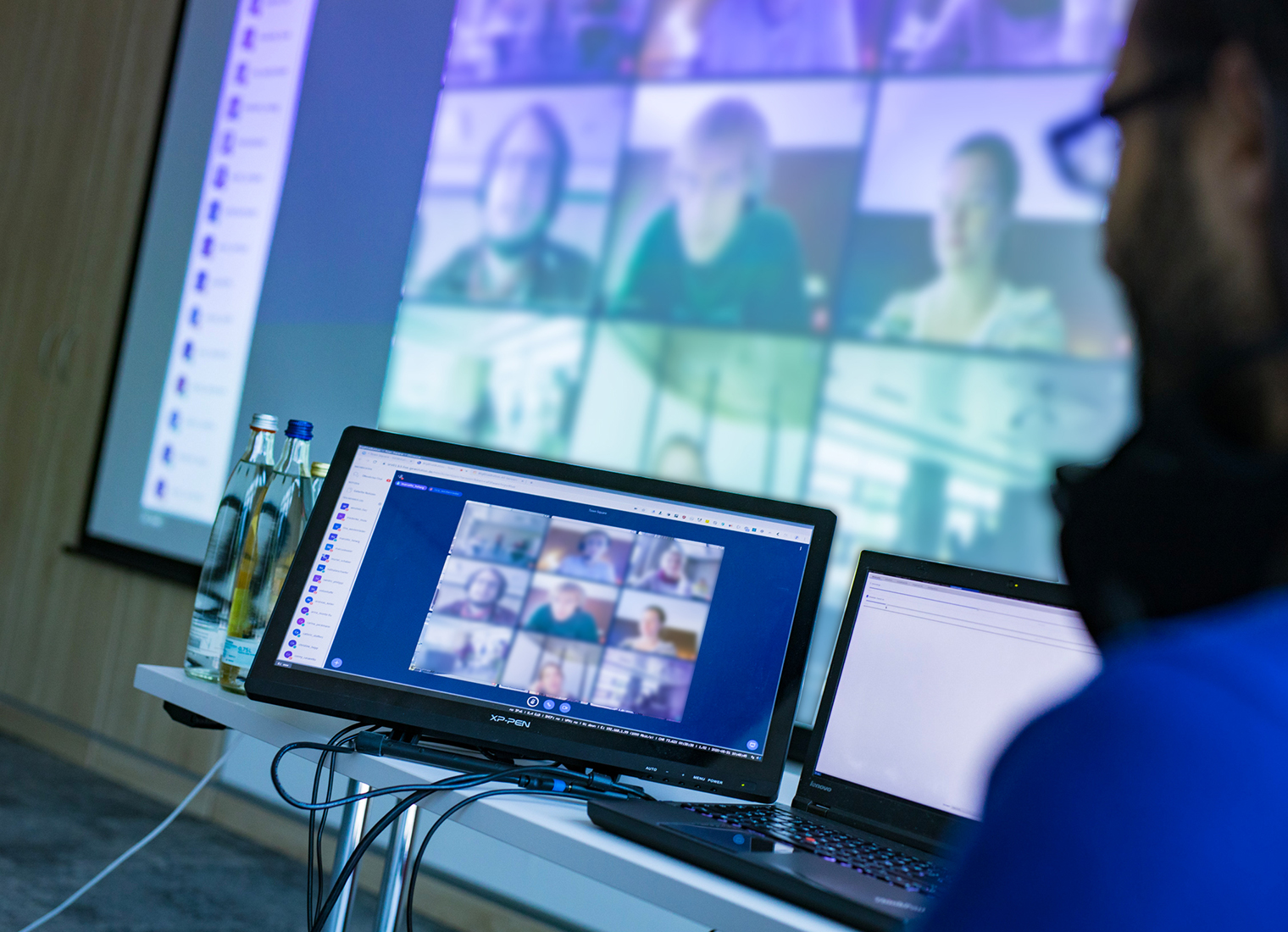 Concept and planning
Online events are not yet a natural feature of every company. If you are planning a web conference or another digital event format, we will be happy to create the right concept for you.
Success Stories
We organised online conferences for various clients, always taking into account the individual requirements and framework conditions.
---
Gewerkschaft Erziehung und Wissenschaft:
GEWolution Conference
The special thing about the GEWolution Conference was the conception within a few weeks. Up to now, the event has always taken place in analogue form and had to be rethought for 2020. Under the motto "Society.Power.Borders – Change a failing System", 150 – 200 participants met in May and intensively discussed educational justice and social change. We made it possible for currently relevant social issues to be discussed and thought about online.
We were responsible for the following tasks:
Registration of the participants
Complete technical support
Provision of the streaming infrastructure
Professional video direction and recording of the talks with cameras / sound etc.
External speakers can be brought in (e.g. from their home office)
---
Verstärkerconference for Federal Agency for Civic Education
The Verstärker Festival of the Federal Agency for Civic Education was also an online conference for the first time in 2020. In addition to the new orientation of the format, the challenge was to implement a variety of modern workshop methods digitally. For the almost 200 participants, we provided creativity techniques with which new ideas and visions could be developed.
Warm Up Quiz
Feedback rounds (qualitative and quantitative evaluation of presentations and workshops)
Marble groups (small discussion group collecting ideas within minutes)
Speed dating (random allocation of discussion partners to exchange ideas on a specific topic)
interactive workshops
Video calls and live streams were possible throughout the event. In this way, the event could be captured in pictures. These will be made available to all participants as documentation afterwards.
---
DAVE Festival
The livestreams for the DAVE Festival for Club Culture were a special highlight in 2020. Titled DAVE TV, the hybrid festival presented a mix of talks, talks, street interviews, concerts and live gigs from all over the city. The different venues presented a challenge for sound and light and transmission technology. Particularly good timing and technical know-how were required.