The Internet of Things (IoT) is a central topic in the ongoing digitalization process. But what are the possibilities and potentials of this technology? What benefits does the Internet of Things bring to society? The Barkhausen Institute is answering the se and many other questions with the interactive panorama. The Innovation Center focuses on the security of IoT applications.
At the start of the exhibition "Showcase of Research" – a new room in the Technical Collections Dresden – the Barkhausen Institute had the goal of vividly presenting 15 different IoT applications. The scientists planned an interactive exhibit for this purpose.
Complex things explained simply
IoT is a general term for various technologies that link physical and virtual objects. 15 of these high-tech applications were explained by the Barkhausen Institute, Neongrau and us wit the panorama about IoT. The whole thing was illustrated by Robert Richter. This special form is characterized by large formats and a variety of components, figures and situations.
The content of the IoT panorama image was developed in workshops together with the client. The exhibit links the topics traffic, health, industry & agriculture, living, intelligent route planning, energy industry, green spaces, data protection and mobile telephony. Current scenarios such as autonomous driving, smart home or urban gardening are therefore illustrated by animation.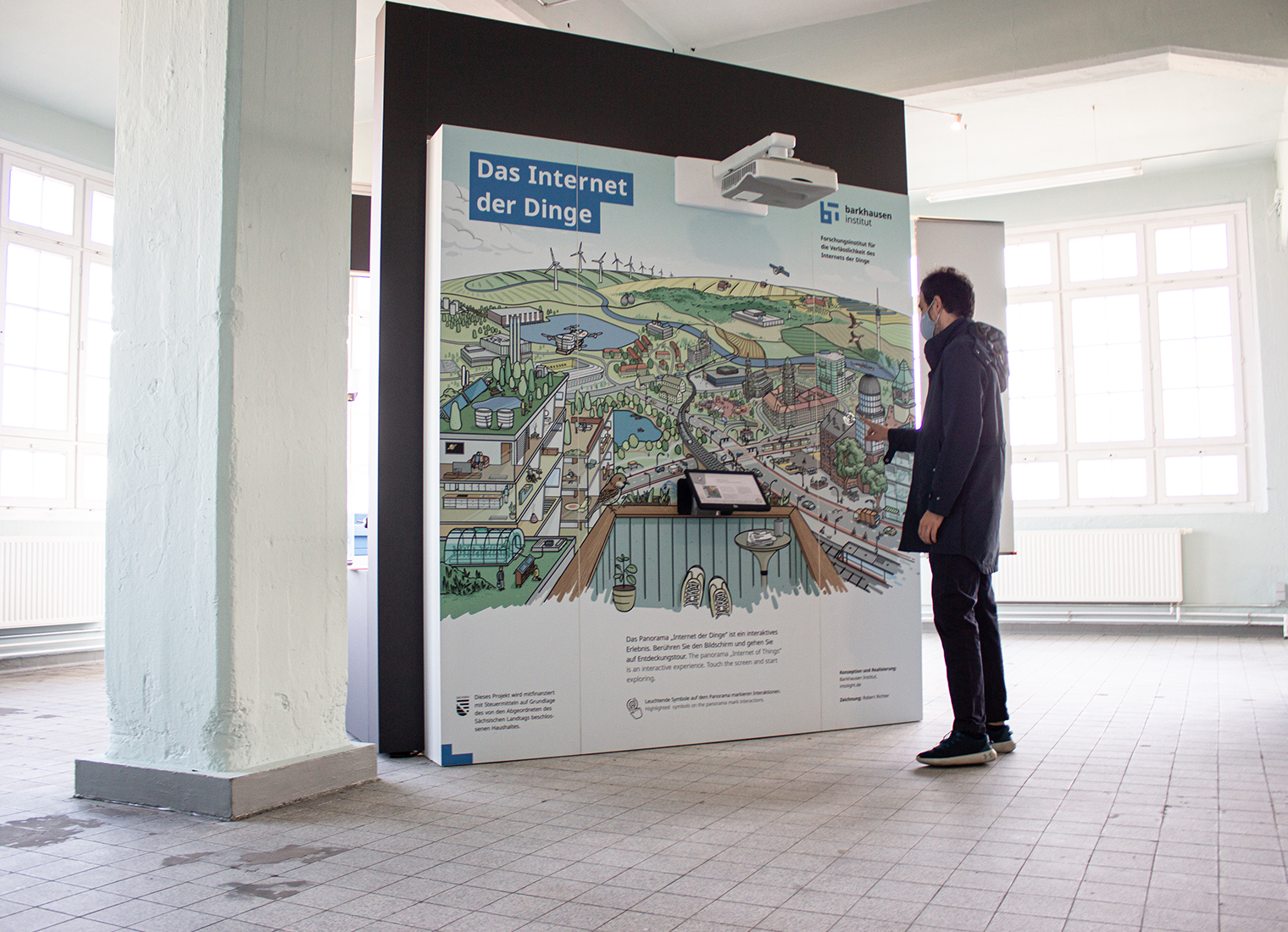 The technology used
The interactive panorama also has a stately size of 2.24 m x 2.90 m and consists of the printed image, a touch screen and a projector. The exhibit is set up as a triptych and can be well transported. It can therefore be easily assembled and disassembled for trade fairs or museums.
The actions in the panorama are presented with the help of animations, which are triggered by the user himself via touch. For this purpose, 9 capacitive touch sensors are mounted on the back of the image. If a visitor interacts with the exhibit, windmills start rotating, vehicles start moving and drones fly over the image. We're using an Ultra Short Throw projector, bringing the scenery with animations to life.
The exhibit was developed especially for the application of the Barkhausen Institute. For this we used the software framework VVVV. Our partner Neongrau took over the screen design of the touch monitor. This enables the different content chapters to be accessed despite the size of the panorama.